The Original Cafe Du Monde Coffee Stand was established in 1862 in the New Orleans French Market. The Cafe is open 24 hours a day, seven days a week. It closes only on Christmas Day and on the day an occasional Hurricane passes too close to New Orleans.
The Original Cafe Du Monde is a traditional coffee shop. Its menu consists of dark roasted Coffee and Chicory, Beignets, White and Chocolate Milk, and fresh squeezed Orange Juice. The coffee is served Black or Au Lait. Au Lait means that it is mixed half and half with hot milk. Beignets are square French -style doughnuts, lavishly covered with powdered sugar. In 1988 Iced Coffee was introduced to the cafe. Soft drinks also made their debut that year.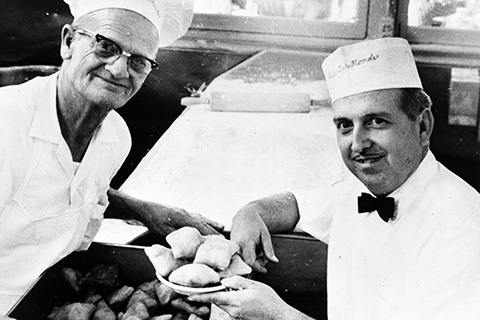 The Cafe Du Monde Coffee Stand is owned by the Fernandez family. Hubert Fernandez bought the Coffee Stand in May 1942 from Fred Koeniger. At that time Mr. Fernandez owned the Fernandez Wine Cellar located in the ground floor of the Pontalba Apartment building across from the Cafe Du Monde. In 1972, The Fernandez family closed the Wine Cellar in order to devote their energies to the Cafe Du Monde.
The location of the French Market and of New Orleans dates back to the Choctaw Indians, before the Europeans settled the New World. The Choctaw Indians used this natural Mississippi river levee location to trade their wares to the river traffic.
The early European settlers came by boat to this location to sell produce and dairy products. The City of New Orleans was established on this location of the Mississippi River in 1718 by Jean Baptiste LeMoyne. This old New Orleans is called the "Vieux Carre" or French Quarter.
The French Quarter has a collection of old buildings that exhibit the architectural styles of the countries that once held power in Louisiana. At one time or another, Louisiana has been under the influence of the French, Spanish and British governments. The first French Market building was put up by the Spanish in 1771. This building was destroyed by a hurricane in 1812. The following year it was replaced by the building which now houses the Cafe Du Monde. Back then it was known as The Butcher's Hall. In the 1930's the Works Progress Administration renovated and added to the French Market buildings. The French Market now comprises of seven buildings anchored at the Jackson Square end by the Cafe Du Monde and on the other end by the Farmers and Flea Market sheds.